Base Capture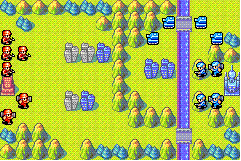 | | |
| --- | --- |
| Game | Advance Wars |
| Objective | Rout or HQ capture |
| 100 Speed Time | 10 |
| Player Units | Orange Star: Infantry*4, Mech*2 |
| Enemy Units | Blue Moon: Infantry*2, Mech*2, Tank*4 |
| NPC Units | N/A |
| Player CO(s) | Nell |
| Enemy CO(s) | Olaf |
| NPC CO(s) | N/A |
| Fog of War | No |
"Our current mission is to storm the Spire Hills. If successful, we should be able to drive that pompous, old... I mean, we should be able to force the Blue Moon forces to withdraw. "
—Nell
Mission Infomation
This is the third level of Field Training in Advance Wars. Nell tells us that Olaf has sent a force into the Spire Hills. This mission contains eight enemies. During the battle Nell explains about base capture and funds. Another feature you are introduced to are tanks units which are very hard to take out at this point without sufficient troop strength. One last feature is the concept of HQ capture, if a team's HQ is captured than they lose.
Strategy
The mission is a tutorial and introduces base capture and funds. Nell guides you only through your first 2 turns then it is all up to you to make decisions. You should quickly capture the five cities west of the mountain range with you infantry and mech units. Then wait for the enemy mech and infantry units to attack your position and counter attack, remember a unit that ends it's turn on a city will heal by 2 HP the next day. Once that force is defeated send an infantry unit across the south out side of the mountain range and around to the enemy HQ. Once there, capture it to win and you won't even need to worry about the tanks units to the north.
Enemies
Initial Enemy
Blue Moon: Infantry x2, Mech x2, Tank x4
Reinforcements
None
Special Items
None
Properties
Gallery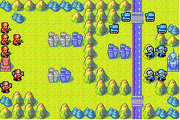 Ad blocker interference detected!
Wikia is a free-to-use site that makes money from advertising. We have a modified experience for viewers using ad blockers

Wikia is not accessible if you've made further modifications. Remove the custom ad blocker rule(s) and the page will load as expected.